I have been bugging Joey about putting a raised bed on the side of the house to grow some small fruits and veggies for a while now. We got about as far as a sketch, a location, and a discussion for a long long time.
I have this vision of our yard being something like this one day..
But today, we will focus on working with what we have and then get fancier as we get mor comfortable with working beyond wood.
You would not believe how much research one has to do to grow edibles safely in a raised bed! Learning lessons from the previous owners (rotting wood detail on our precious home!), we decided to use pressure treated wood to build a stacked bed on the side of the house. Pressure treated wood has a shelf life of up to 20 years while most other woods only boast a fraction of that life span. Boy-o-boy were we in for a treat.
Did you know pressure treated wood contains arsenic?! If you aren't so in touch with your heavy metals, arsenic is a poison that, once collected in your body, has no was to be removed. If you build up enough, the results could be fatal. All this from pressure treated wood in your local hardware store. Pressure treated wood is usually used on decks, play-sets, and picnic tables. We could not believe this existed!  The reason pressure treated wood is so tempting is because it's poisons are what keeps rot from happening and bugs from chowing down on the wood and keeping it usable for that 20 years-ish we mentioned above. It makes it last so much longer than wood that hasn't been treated. See how complicated this gets? We want wood that will last so we can build beds and grow food. We don't want the food to be poisoned. So, building a raised bed safely and then growing in it safely took a lot of research and preparation before we felt comfortable. Ready for a super long post + video? Here we go!
First off, we thought we had all of our safety items and tools to get started. We thought.
3M safety glasses for cutting wood, the paint mask, which I insist on because of the poison wood, the 3M earplug because the saw is loud and it's an all day project and Joey needs his ears working for his job after all! See all the wood dust build up on the side of Joey's face? That's what gets up your nose, mouth and ears if you don't cover up. Gross. He looks looney, but who cares? The sandpaper is to rub down the corners so we don't get splinters in the future. Who wants a poison wood splinter? Not me. The most important (to us) safety item to get before dealing with pressure treated wood is these 3M Tekk gloves. Reason being is you have no idea how much you put your hands by your face. You touch the wood (which is often wet when you buy it) and then touch your eyes, face, mouth, etc and then you have just introduced the chemicals to your body. Gloves people.
For safety tips and DIY projects, a good place to check out is 3M's new DIY page. It's a fun place to poke around and see a bunch of really great projects. They also have a giveaway going on with all the protective gear we used for this project!  http://3mdiy.com/
So now that the raised bed is built safely, and looking pretty, now what? It's still riddled with poison! After mucho research, here is what we decided would be the safest way to plant fruits and vegetables in a pressure treated raised bed.
1. Coat the inside of the bed with an oil based NON film forming stain. The government recommends using the below options which will work for one year, then needs to be redone every year:
Clear, water-based, acrylic tint base stain (no tint added);
Oil-based deck toner base deck stain (no tint added).
Semi-transparent, oil-based, sealant with UV blocker
Clear, oil-based penetrating sealant with alkyd and acrylic; and
Clear, oil-based, acrylic stain
2. Now, we are going to get even safer, and add another layer of protection. We couldn't find any guaranteed methods/confirmation of no arsenic leaking into the soil, so we wanted to just be super duper safe. There are two things we care about a lot in this house. One, is education. We have been planning our kids education for the past eight years and we are only just over 4 months pregnant. The second is food quality. It's totally up to you and what you feel is safe. Some research we found said gravity alone will not allow the arsenic to make it into the food. Totally makes sense, we are no scientists over here and have no idea what's true and what's not. However, I would feel like a dope if I fed my newborn baby arsenic riddled veggies, so let's talk about that extra layer of protection. The next step is to add a layer of film that is food safe! We plan to refresh this yearly when we re-coat with the oil based sealant. A reason for double-wrapping is because once the soil is put on top of the plastic film, what if you puncture it with your tools, or a bug pops a hole through it?
Want more safety tips on working with pressure treated wood? We made a handy video we will share with you Monday!
Though more expensive and sure to decay, moving forward I think we will opt for using white oak that's not treated. Even though I feel pretty good about the solutions we found, I am not a fan of knowing my food is growing so close to poison. The whole reason for the raised beds is because the house (built in 1930) was painted with lead paint at some time (we did a home lead test), and through the years the flaking paint has made its way to the soil.
So now what to plant? Summer is almost over and kids are already back in school! Now that I have some beds, I am a bit limited on what I can grow. We are totally new at this, but in a second life I would totally be a farmer. This stuff is just so interesting to me. We are going to give brussels Sprouts, broccoli, collard greens, blueberries and strawberries a try.
Have you ever begun a project thinking you would get it done in snap, only to find out there were a bunch of bumps in the road ahead? Share and save us all from time sucking adventures!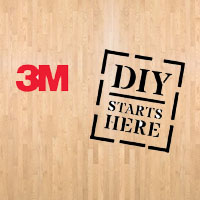 Content and/or other value provided by our partner, 3M DIY.
All safely materials were graciously supplied by 3M, and we are grateful they did because this project sure needed them! Though sponsored, all opinions are our own.